Rossendale Harriers 50th Anniversary Fra Junior Championships races  2017
You can now enter Online by selecting the link below which will take you to the Si entries System. We ask that to save us work on the day that you take up Online entry. A parental Consent form will be completed on the day .
Incorporating the Junior Inter Counties Fell Championships for Under 17s and Under 19s  
County Championship medals will be awarded as soon as possible after the Under 19s/21s race
County Managers/Selectors should contact us with details of their team members prior to the event. Minor changes can then be made on the day.
Contact Graham Wright.
Email.   rossendaleharriers@sky.com
Preliminary details.
June 10th 2017.
First race ( Under 9s ) at 12.00 with all other races to follow. 
Under 9s start time 12.00 
Under 11s start time 12.15
Under 13s start time 12.45 
Under 15s start time 1.30
Under  17s start time 2.15 
Under 19s/under 21s start time 3.00
Start times are only approximate, and are solely based on how long we estimate each race to take given that the routes are new and we don't have previous results to base them on but we won't start before the times outlined.
We will have a funnel system at the start to count all of the starters in each race and at the finish.
If you register then decide not to run you must inform a race official at REGISTRATION.
Kit, please come prepared to wear or carry the appropriate kit. It's likely that the older group races ( Under 17s Under 19s/Under 21s ) which cross open exposed moorland will be asked to carry the required kit. Further details to follow but information on the kit requirements can be found on the FRA website
Races for all age groups Under 9s, Under 11s, Under 13s, Under 15s, Under 17s, Under 19s and Under 21s ( Under 19s and Under 21s run together in the same race )
Prizes ( Pete Bland Vouchers ) will be awarded to the first 3 boys and girls in each race. ( U13s, U 15s, U17s, U19s and Under 21s )
Vouchers will be handed out to the first 3 finishers, boys and girls in each race in the finish funnel at the end of their race eliminating the need to wait around for a prizegiving.
Goodie bags for all finishers in the Under 9s and Under 11s.
Entry fee for all races £3.50  
Registration and event Centre is at Cowpe Village Institute on Cowpe Road nr to Waterfoot ( mini roundabout in Waterfoot on the A681 Rawtenstall to Bacup Road in the Rossendale Valley  )
Postcode BB4 7DP
There is some information on Cowpe Village here on the link.
Car Parking ( depending on the weather ) will be in the field behind the Village Institute as will the start and finish. Please consider car sharing. In the event of bad weather and a waterlogged field, car parking will be " on street " with some walking to the event venue
There will be new routes for this year which have still to be finalised. We will post route maps here when they have been finalised.
Contact
Graham Wright 07764 949199
email   rossendaleharriers@sky.com
You can now enter Online by using the Si entries system via the link below. Please consider pre-entry as it will save us time and effort on the day and expedite the speedier production of results
Event venue map.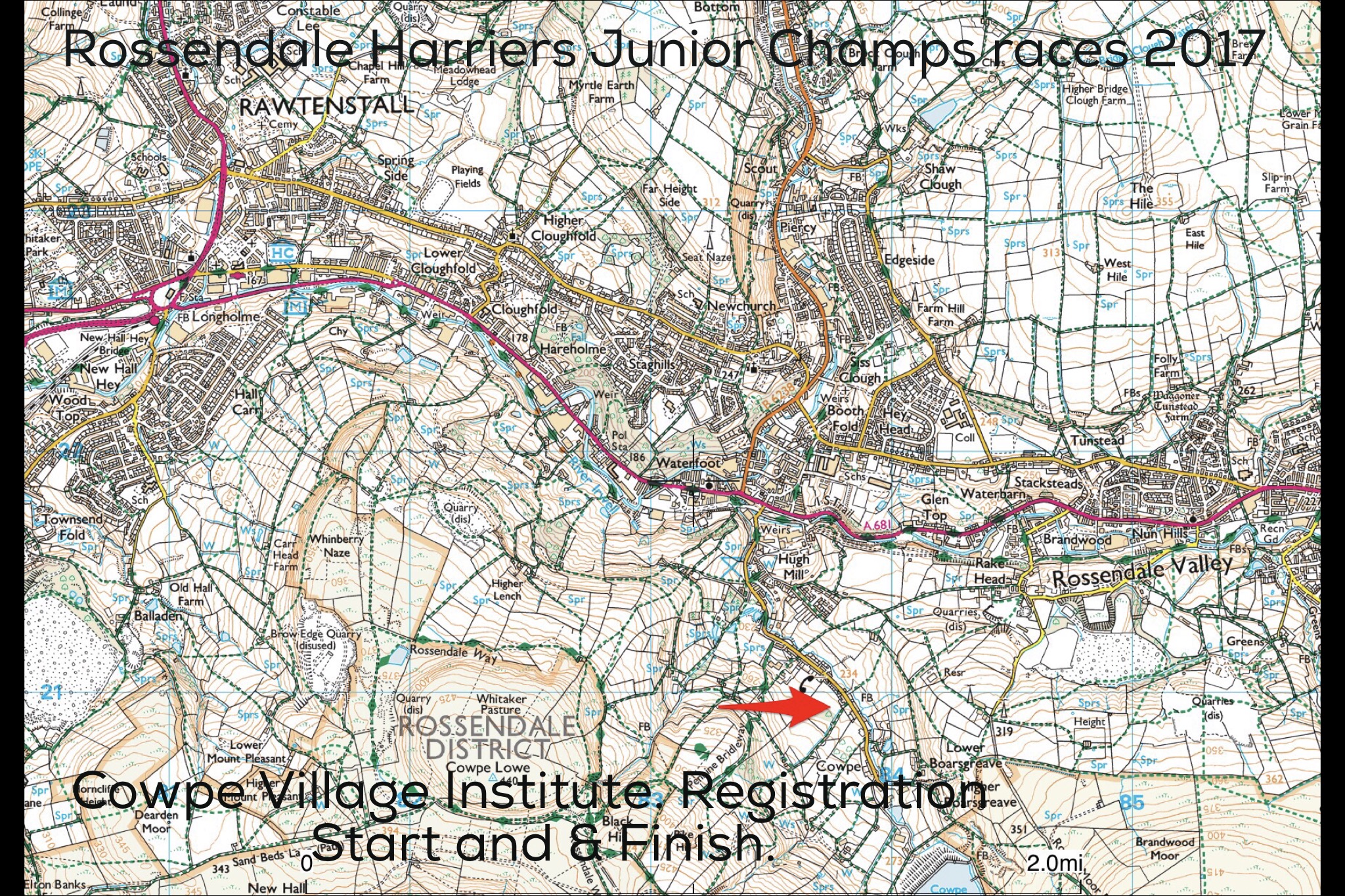 Under 9s route map. Start and finish in the field behind the registration venue. No pre recce of the route in the 2 fields at the beginning of the race route please.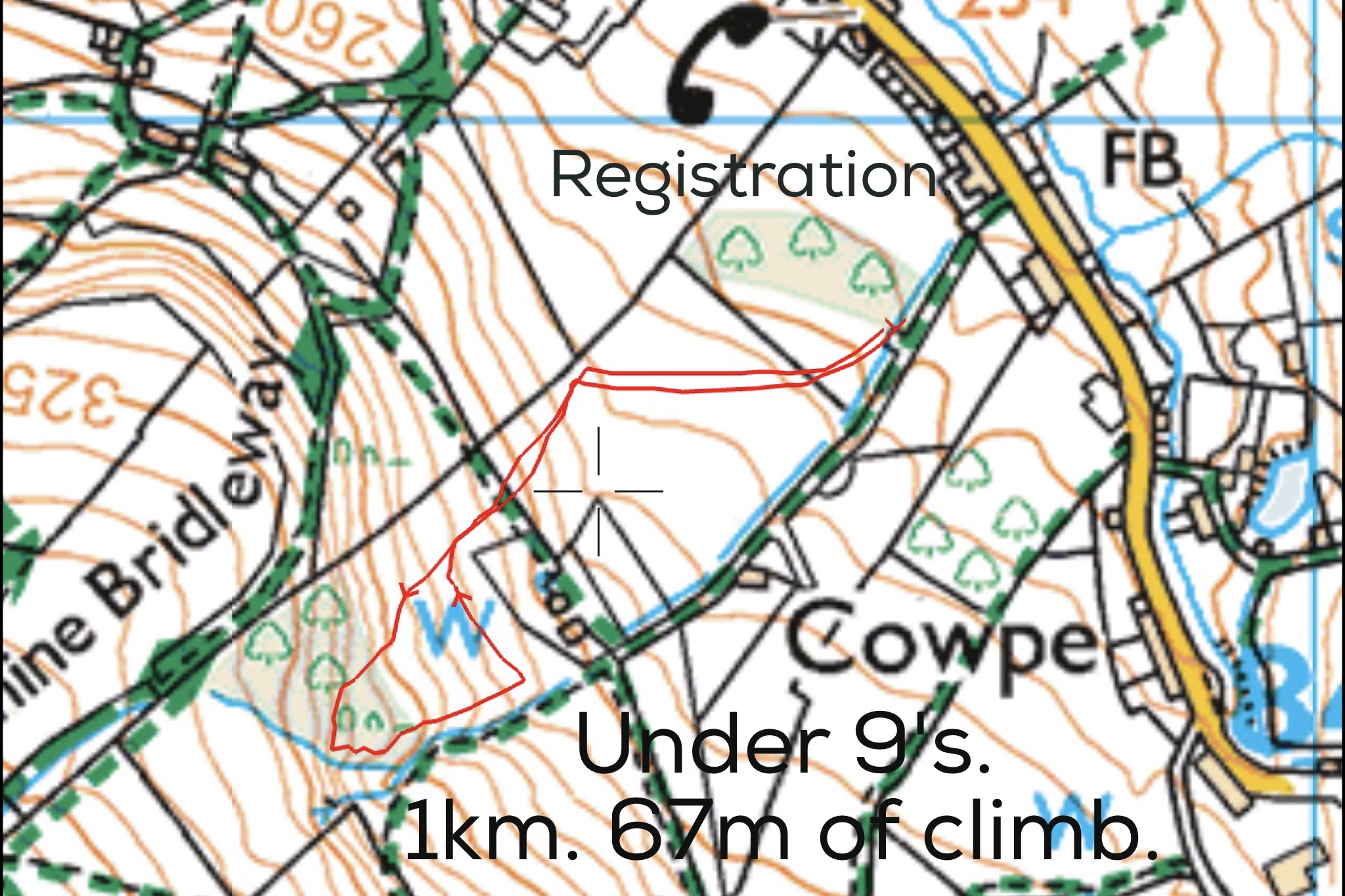 Under 11s route map. No pre recce of the route in the 2 fields at the beginning of the race route please.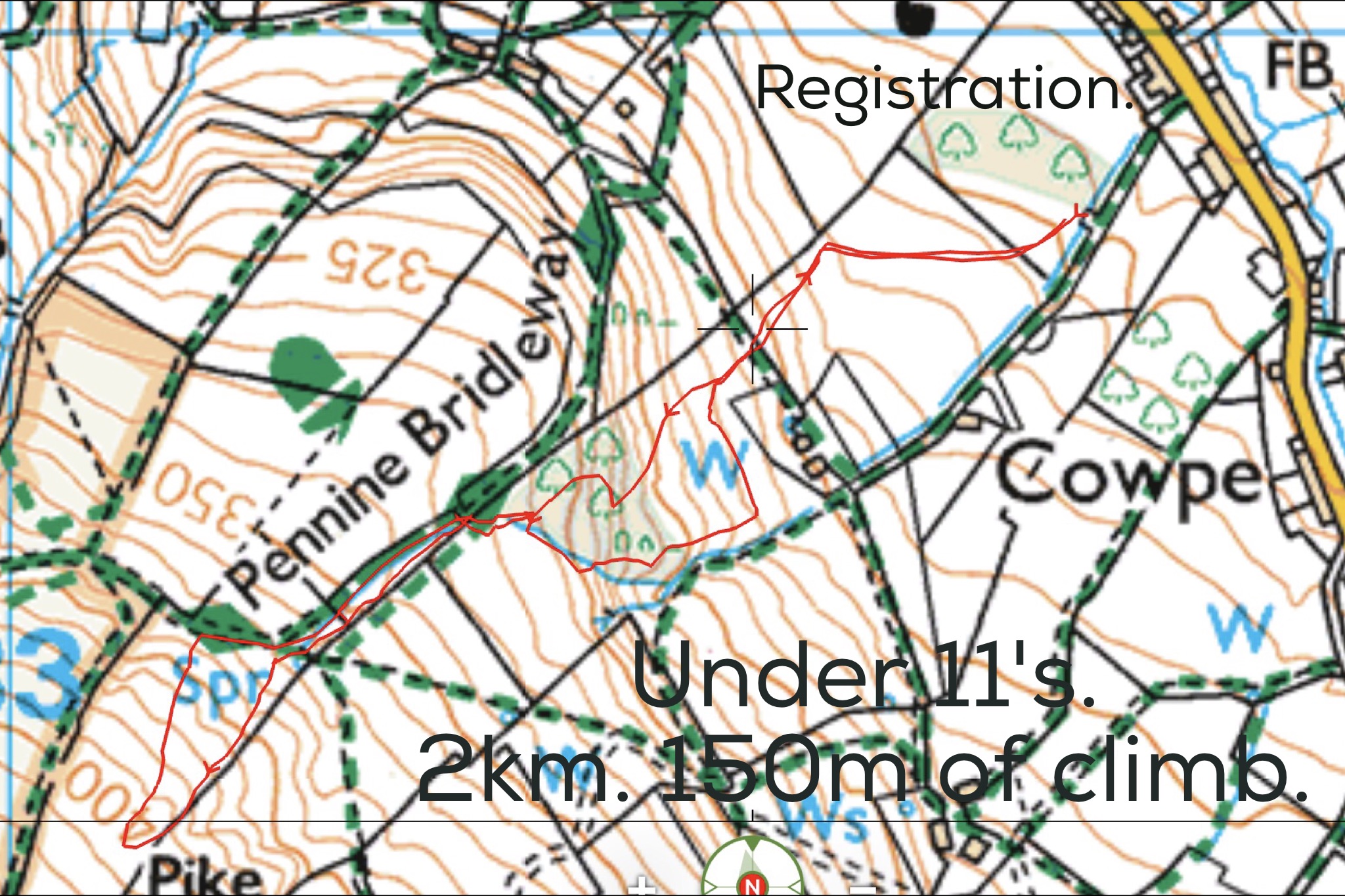 …………………………………………………………………………………………………….
Rossendale Harriers Juniors
Due to increasing numbers of Juniors at our club we presently are not accepting new junior members.
AS WE ARE AT PRESENT NOT ACCEPTING NEW JUNIOR MEMBERS THE INFORMATION BELOW DOES NOT APPLY.
Prospective new Junior members will only be considered if they are happy to fulfil the following criteria :
A commitment to compete for the club in your chosen discipline.

A commitment to attend training on a regular basis. This also includes punctuality, appropriate dress as advised by your coach, respect for other club members, coaching staff and helpers, and a willingness to take part and achieve your full individual potential along with impeccable behaviour at all times whilst attending the club.
Junior members who fail to attend training with the club for whatever reason for a period of 6 weeks or more should contact us to discuss the reasons for non attendance before reattending